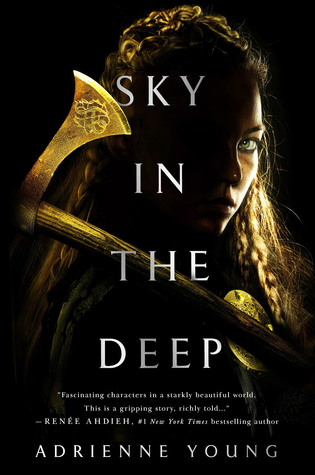 Last night I had the joy of finishing Sky in the Deep by Adrianne Young and it was an absolute pleasure. The story's world is based off Viking culture, and aside from having a general idea of who Thor, Loki, and Odin are, this was a completely new world for me. It's funny, but a kid who would make fun of me in middle school nicknamed me The Viking (the nickname had a lewd half I won't get into now), and for the longest time the only image I had of them was the double horned helmet and the blonde braids on each side, which somehow also always involved opera singing. I've never seen the show Vikings, and I haven't read any books on Norse mythology (Greek mythology was my jam as a kid), so I didn't have expectations on what the world I was about to enter would be like. I may have chosen to read Sky in the Deep because it's a standalone, but now all I want is more time in that world.
Sky tells the story about Eelyn, a 17 year old Aska warrior who in the middle of battle sees the brother she had seen die 5 years before fighting with their enemy tribe, the Riki. The book hits the ground running, introducing our MC moments before the fighting starts. She's an incredibly strong fighter, a badass who doesn't wear a shield, but wields a sword in her right hand and an axe in her left, but who we meet already wounded. She's been forced to stay at the sidelines for two months of the fighting season, which happens every 5 years, due to some broken ribs, and a few pages into the first chapter the man she is fighting has her at a disadvantage she's never been in before. It all but seems Eelyn's story is about to be the length of a pamphlet when she spots her brother and the man she's fighting spares her as his people retreat, leaving her arm deeply wounded, but alive. When she tells her father Aghi that she saw her brother, Iri, he sees it as a sign that Eelyn has been blessed by their god, Sigr, and that he sent her brother's soul to save her. Later that night, when the Riki attack them again, Eelyn leaves her fighting mate Myra behind the moment she sees her brother disappearing into the forest. She follows him, still hanging out with the guy that cut her up, and she's captured by the Riki and taken to their village to be sold as a dyr* (slave). Iri, and her captor, Fiske, plan to keep her as a dyr until the snow thaws, then let her escape once the snow melts enough for her to be able to make it home. In order to do that, her relationship to Iri must be kept secret to everyone, so Eelyn ends up being forced to serve Fiske and his family, which is the family that adopted Iri and love them as their own, the very reason he betrayed their people. It's a lot.
*I understand it was part of Viking culture, and I understand that dyr were acquired from the frontlines; people who were trying to kill them, but it's impossible for me to not feel incredibly uncomfortable with this. Slavery is part of my people's past, and its something that's had long lasting effects still felt this day by a lot of people in the world. While the circumstances here are entirely different and slavery not race driven, some readers may understandably want to skip this book.
Young is extremely skilled at having the reader understand and empathize with Eelyn's emotions. I found myself feeling anger and betrayal toward her brother, and hating his new family whose only crime was having treated him with love. His adoptive family; Fiske, his mother Inge, and his brother Halvard were all fully fleshed people who you understood, but still felt anger towards them. As the book progresses we see relationships evolve. We see Halvard slowly crack the ice around Eelyn's heart and Inge's decreasing worry about his growing attachment to her. We see Eelyn trusting Inge with the details of her mother's death at the hands of the Herja, a clan thought by the Riki to be the product of myth, but known to the Aska to be very real. When the Herja raid their village and other Riki settlements it's decided that the Aska and Riki must join forces in order to have a chance of surviving.
The differences between the Riki and Aska are in everything. The Aska make idols of the loved ones they've lost. The Riki carve runes into smooth, black stones to protect the people they love as they head into battle. The Aska live in fjords, the Riki deep in the mountains. Both tribes have varying versions of the same creation myth; a myth that establishes a clear rivalry that started by slights and offenses committed by their gods, Sigr and Thora, against each other, and that is perpetuated every fighting season. One of my favorite moments of the book was when before the clans were to face the Herja together Eelyn prays; first to her god Sigr, then for the first time ever, to Thora. Her love for her new family was strong enough that she went from being afraid of entering a rival clan's ritual house would cause her own god to curse her, to caring about her former enemies enough that her heart found room for Thora in it. Just like Iri didn't stop loving his family when he embraced his new one, Eelyn didn't stop having faith in Sigr when she prayed to Thora.
Among those people she grew to love is Fiske, the man who came close to killing her in the field and who she would have killed just as easily were it not for Iri. Their relationship grows slowly, over gestures and conversations, over trust gained and given. Their love isn't one of flowers and courtship, but one of two people who see each other as equals, who are willing to risk their lives for each other, and who desperately long for the fighting between their clans to stop because they've seen that the enemy they've been taught to hate their whole lives is more like themselves than they'd wanted to admit. When they sleep together it's an act of giving themselves to one another, they belong to each other, they are each other's home.
I fell in love with this book. It started off in the middle of the action, yet its most thrilling and exciting moments were the small, quiet ones.